An experimental Carnet, painted on a Japanese Album consecrated and birth from "The Drifter" surf movie, a biographical account and documentary by Taylor Steele about Rob Machado drifting alone, surfing in Bali and Indonesia.

This Carnet was hosted at the 2014 Rendez-vous du Carnet de Voyage in Clermont-Ferrand. Enjoy the clip for presentation and download the preview as .pdf: The Drifter – Carnet, Japanese Album by Moleskine (original Carnet)
Brief Introduction to "The Drifter"
This is a very special carnet, as although its classical "appearance" in style: a Japanese Album by Moleskine® mostly painted by watercolors, written with inks and patched with some stamps and paper-cuts, it is definitively an experimental work
At first in this Japanese album I'm not conventional at all because it isn't related to any physical travel I did in Bali and Indo, but this it is a carnet I made from a surf movie by Taylor Steele, a documentary consecrated to a particular moment of the life of the actually free-surfer Rob Machado during its wanderings into Bali and Indo.
In other words I reversed in this carnet, the voyage sprung-out in me by seeing this movie, which to me isn't just a movie, as I lived it as the making-in-images and a visual narration of a series of experiences and feelings that I found in voyaging and that I share with the starring.
Thus, I felt there's a lot of paths, coincidences (do the coincidences really exist?) and invisible strings which deeply linked me to Machado and Steel as respectively the traveler and the teller, a sort of convergence of numerous paths which permeate this movie of some indescribable richness that, as other "normal" voyages, I shall reverse in a carnet.
I moreover feel that this surf-movie is in truth a Carnet de Voyage which Steel and Machado made together, fulling it with all the stuff I use to look for and "squeeze" in my carnets: at first the astonishment in front of the astounding beauty of splendid Bali and Indonesia, but not idyllic, where I've always wished to have been and where I'm sure I'll go sooner or later.
Steele – Machado documentary I felt thus to be a carnet, telling about a travel which isn't made, view and narrated with the eyes and the lens of the "tourist", but I feel they're the ones of the traveler in-love with the see, the surfer who's looking for waves, absorbed into the ocean and fulfilled in surfing.
Surfing could be seen as an extreme sport, may challenging against the most powerful elements of nature. But it also may could seen and lived as the never-ending research, research of perfect wave, also research of complete loneliness with our self, practice of balance and equilibrium, the art of drawing white serpentine into the tube of a green wave spiraling on a turquoise sheet of crystal, in a Zen – paint lasting as a skimming of the wave.
Surfing. Painting.
Practicing Taijiquan or more in general Wushu…
Arts.
I can't never realize if such vision of life I have is the driving force that push me to look for and practice arts like painting, Wushu or surfing, or if it is indeed the practice of arts which make me gain a life made by completely different activities and permeated of signifies…; maybe both, as both are reasons which pushed me being so captured by this movie to spill it out on a Japanese carnet.
Anyhow both in surfing and in this "Carnet de Voyage" made movie by Taylor Steele and Rob Machado, I can live sensations and visions which I deeply feel as mine, which belong to such precious moments within I remain in absolute loneliness and osmosis with the Creation, as when I paint, as when I'm sitting on my board near a reef-break just outside Waikiki, while I'm moving not-moving (how is natural, sometimes, in surfing and painting the accomplishment of Taoist principle of 無爲 wu wei – non action), as in the total lapsing into a Chen Taiji routine.
Those consist also in "a drifting".
Pushed by absolute love and amazement for nature, its manifestations and forces, trying to feel and indulge them. As when painting, with total abandon and assimilation with the subject.
A sort of alchemy process which I think in me actualizes with the solicitation of some perceptive expressive and synaptic capacities.
As any other travel I made and paint on my carnets, the travel made by Machado and Steel aroused in me the accomplishment of a deep an long inner journey (another set of opera by Taylor Steele is indeed called "Innersection"…), an introspection induced by the physical traveling of these human beings to which, somehow and for some reason, I feel linked.
Physical traveling and inner journey is moreover well presented by the strong introspection of Machado, as this journey to Bali and Indo is not the typical prototype of the surf-trip, but is a "drifting", a drifting alone.
Again, the movie is thus a documentary which lies outside of the classical cliche of a surf-movie with fast and powerful music and rapid succession of surf scenes with changing of the best world surfers, making the most fearless and extreme tricks riding powerful wave-monsters.
Music of the "drifting alone" of Machado is slow.
Surf-scenarios of cadence rhythm with never-ending tubes and serpentine painted into the most beautiful glassy waves I've never seen in my whole life, interchange with sudden and amazing flashes of Indonesian and Balinese life.
The words of Machado, presented as thoughts he silently spoke to himself, touch some arguments which are so dear to me as a surfer and a painter of carnet, as the capacity of stopping for a moment and meditate: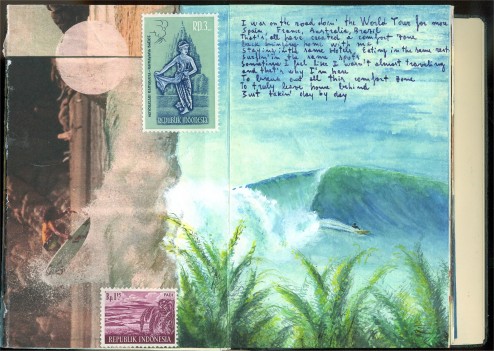 "I was on the road doin' the World then 10 years
Spain, France, Australia, Brazil
That's all have created a comfort zone
back bringing home with me
Staying in the same Hotels, eating in the same restaurants
Surfin' in the same spots.
Sometimes I feel like I wasn't almost travelin' at all
and that's why I'm here
To break out all this comfort zone
To truly leave home behind
Just takin' day by day"
In other words, what do I mean as traveling for real.
You may like this work? Support me
You may wish to have a copy of "The Drifter – Carnet on Japanese Ablum", a handmade Japanese-accordion folded and hardcover Carnet.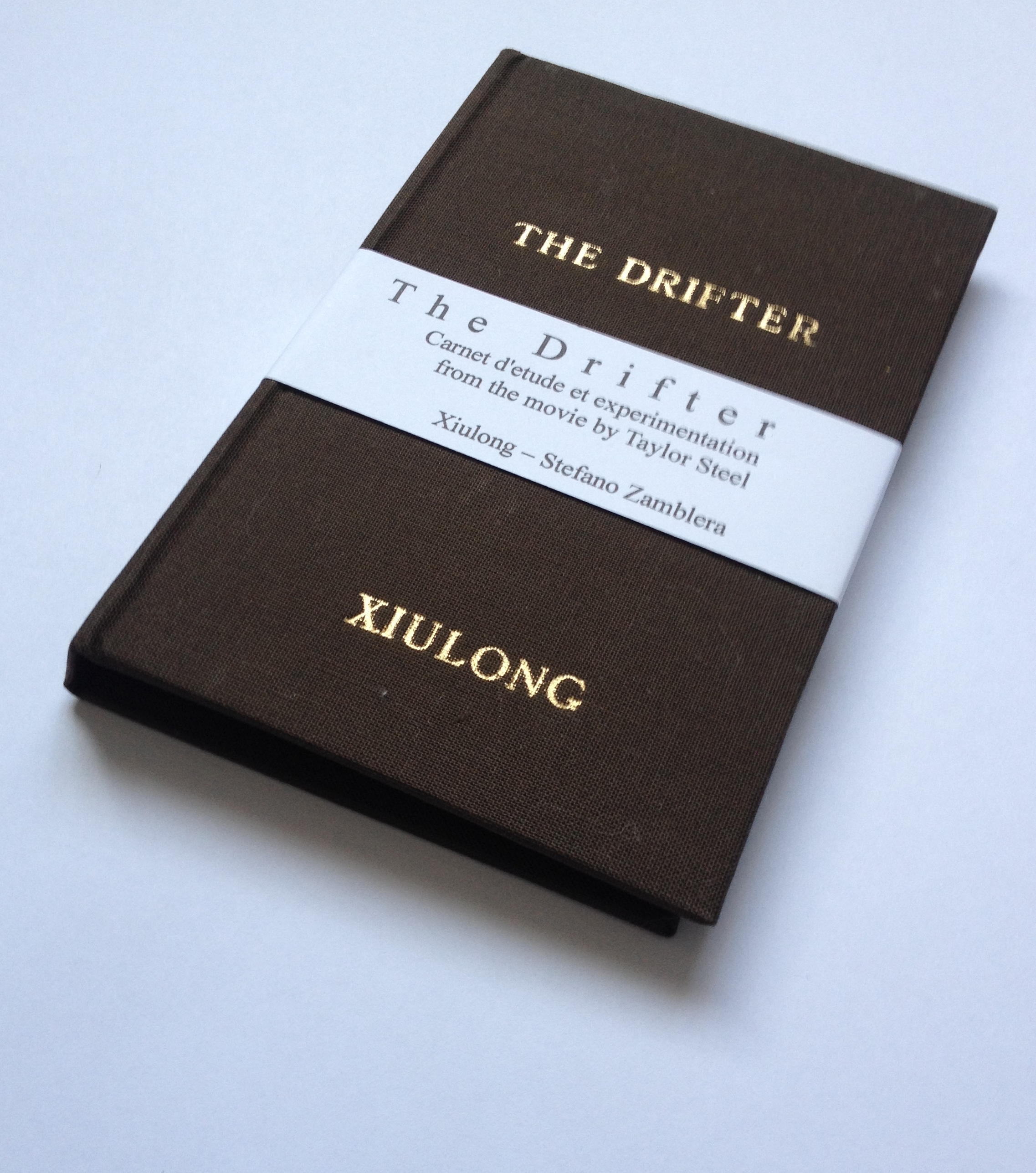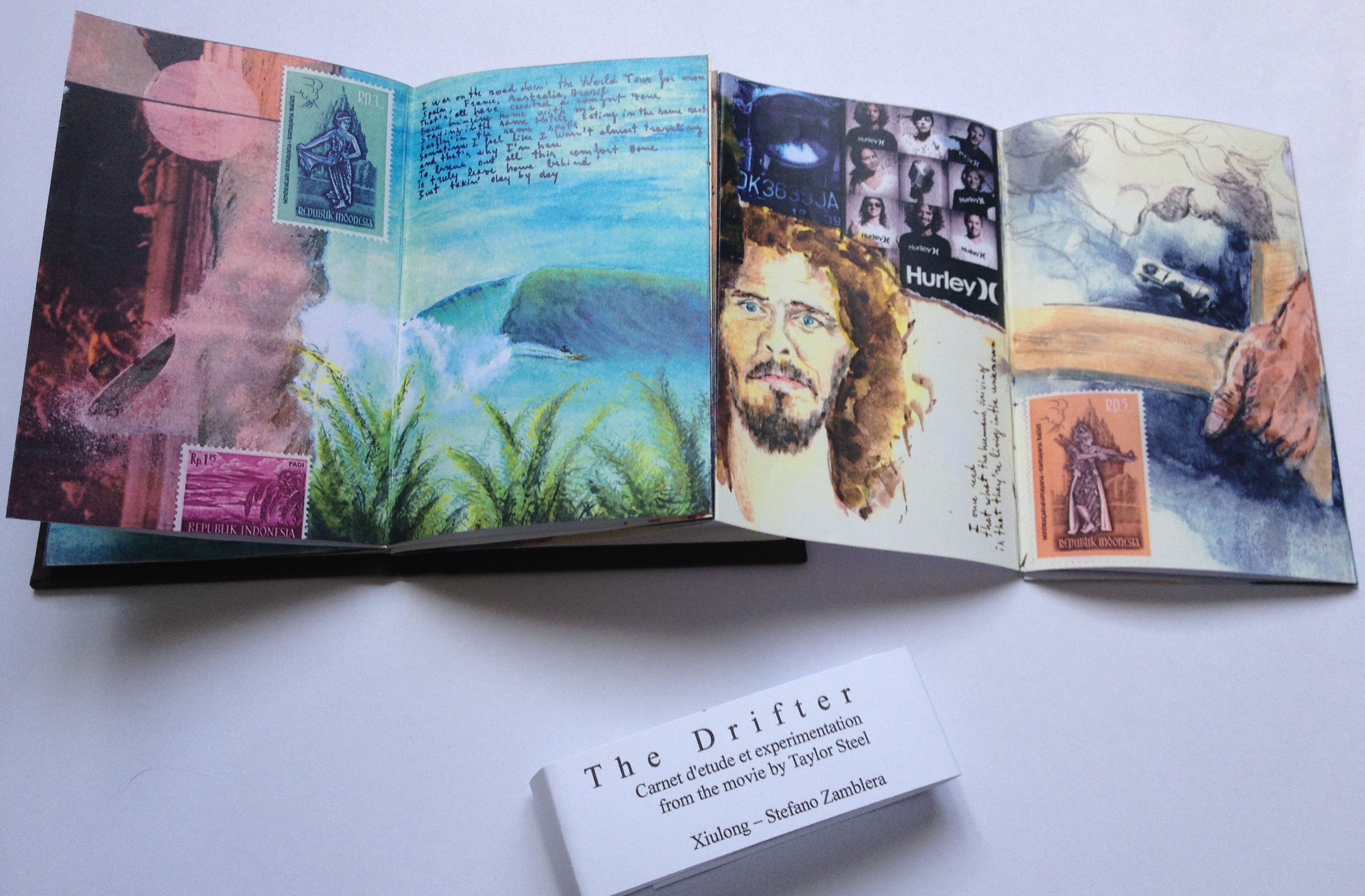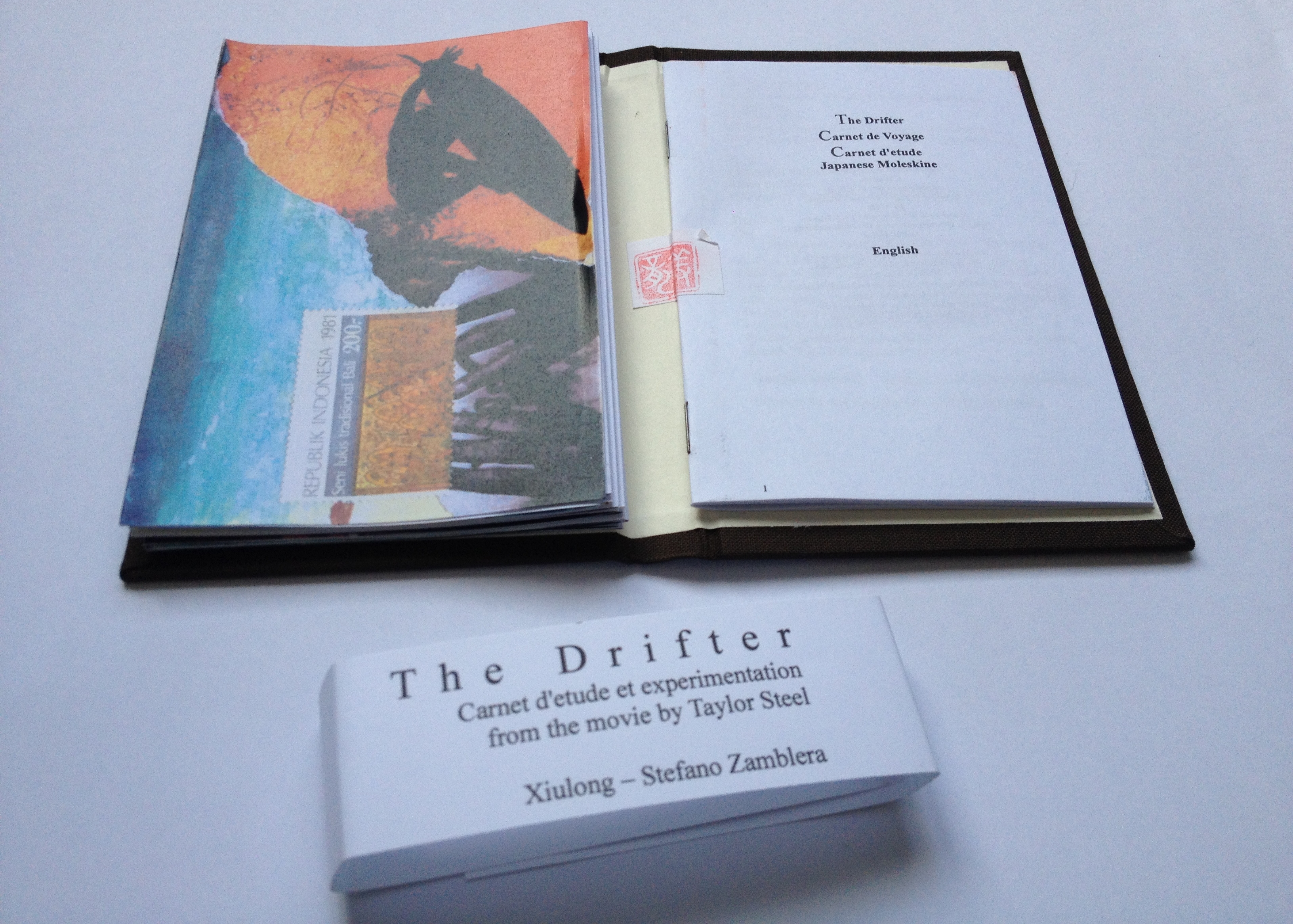 **********
Or if You just like how I work, may You pay me a coffee (€ 1,00)
Anyhow, thanks for visiting and reading 'till the end!