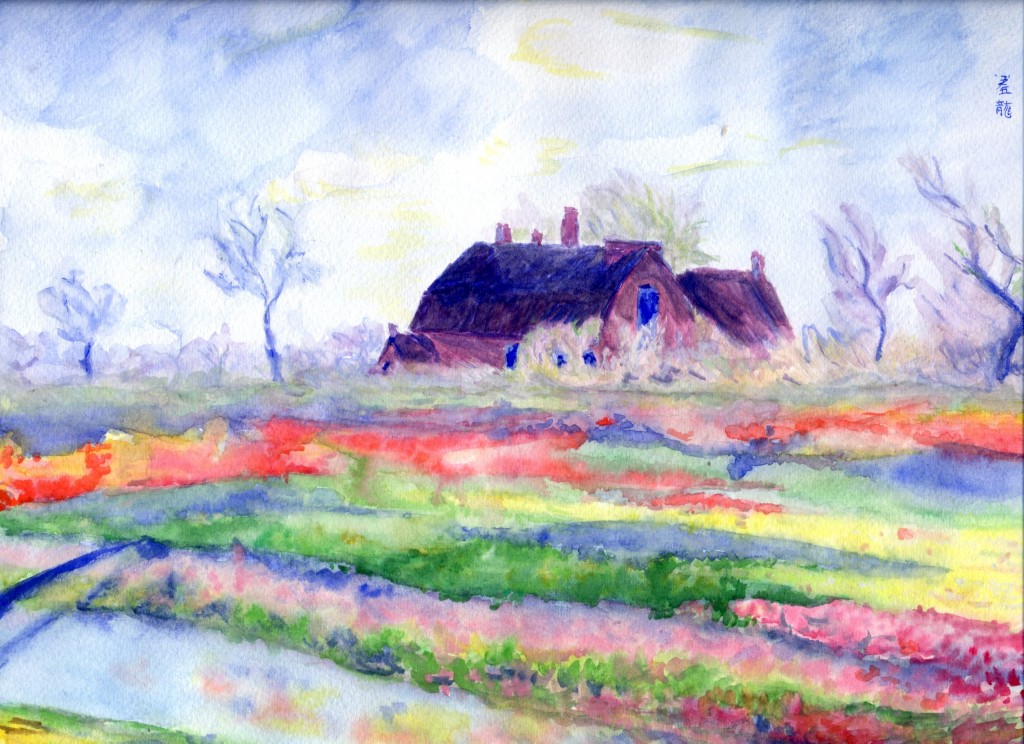 " I have come here invited by a
gentleman…who wanted to
show me the floricolture here,
enormous fields in flower…"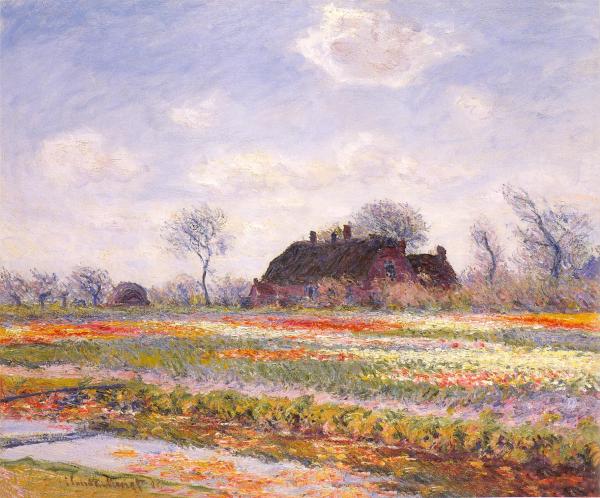 Monet was invited to Holland by the newly appointed Embassy Secretary in the French Delegation at the Hague, Baron l'Estournelles de Constant, through a mutual friend, the collector Charles Deudon. Aware of Monet's love of gardens and landscape, Deudon thought the Dutch bulbfiends offered a perfect combination of the two and arranged the trip.
Monet arrived by overnight train on 27th April, greetedby the Baron, who was as excited by the novelty of this coloured landscape as he was about showing it to Monet: " I have come here invited by a gentleman whom I didn't know, a friend of Deudon's, an admirer of my work, who wanted to show me the floricolture here, enormous fields in full flower…" wrote Monet in the only surviving letter to the briefest of his campaigns.
Monet stayed here only 12 days.
He was familiar with the light, having painted there twice before.
He had sought refuge in Holland in 1871 from the Franco-Prussian war with Camille and Jean, settling in Zaandam to paint windmills, canals and boats throighuot the summer and autumn: " […] there's enough here for a lifetime of painting" wrote to Pisarro.
He had made another brief trip three years later, to capture canal scenes in Amsterdam, but he had not seen the kaleidoscope of colour that stretched for hundreds of acres across the sandy silt soil of the low-lying polders, reclaimed from the sea.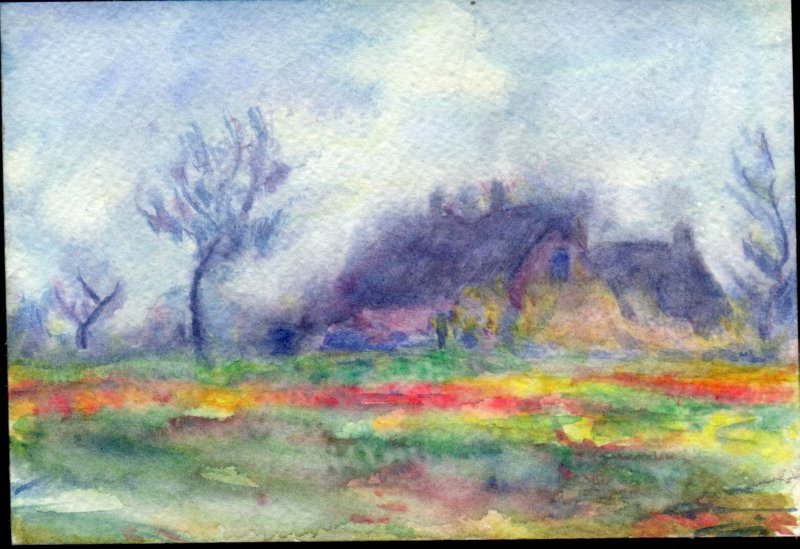 Travelling northwards from the Hague by steam tram, Monet set up his easel in Sassenheim, halfway between Leiden and Lisse. There, a magical technicolour carpet inrolled itself across an entirely flat vista to the horizon, punctuated only now and then by a farmhouse, a windmill or a canal.
It was a stylized landscape whose serried ranks of thusands of rows of tulips, narcissi, daffodils and hyacinths had been planted with military precision into long stirps of pure colour.
He was dazzled.
The scale, scope and vibrancy both enchanted and challenged him: "It's wonderful but maddening for a poor painter; impossible to render with our poor colours". No painter had ever attempted to paint with this palette before and the lessons of Bordighera were of no use to Monet here.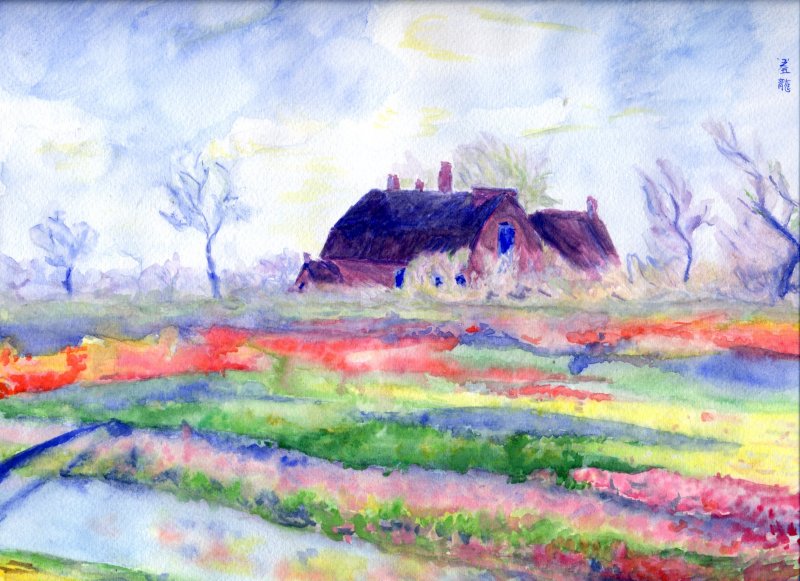 Blessed with stable, sunny weather, he completed five canvas within a week, all of which were immediately sold two months later.
"The paintings of the tulip fields near the Hahue" wrote his biographer Gustave Geffroy "are meadows of flowers tightly massed, growing flush to the soil, resplendent in their vaiegated blossom of fiery greens, of golden yellows, in purpled reds and of vermilion. Each flower loses its distinct shape in these prodigious masses, only contributing to the streaks of colour of these luminous furrows which run off into the distance."
My poor watercolour study is here made as for the love I feel for Monet paintings, and as training both in variegated palettes of colour using and in wet-in-wet plus pour color apllications…