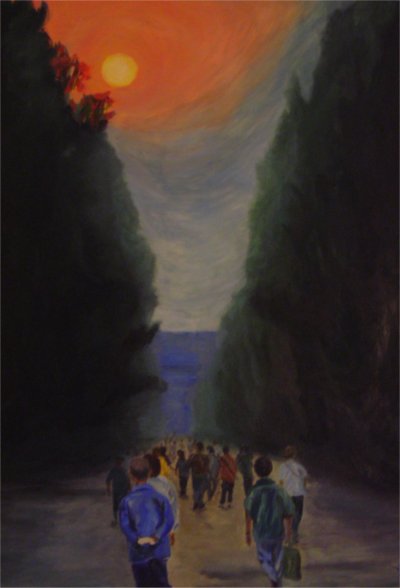 Tian Tan Gong Yuan park in Beijing was certainly the most important Wushu Guan for the whole period I was in China, douring summer of 2005!
Because of it's wonderfull nature and becuase of genuin and real way of doing of Tian Tan people, and Tian Tan Wushu, I assumed Tian tan as the most important place to go to pratice and training Wushu, and Tian Tan Wushu ren (both people who pratice, people who teach, etc… ) as the most desiderable company training with except few, few close friends!
Those, of course, talkin' about myself, Wushu ren of 32 who come from Italy looking for truth and source…here I found that:  书剑同源 shu, jian: tong yuan – the book, or the art of writing or even the art of study, and sword, both share the same source…
So…here's this paint  on xiuart.org
In this last moths, full of work and University engagements, also full of Clau's European selection and training preparation, just pianted just this 1 oil on canvas, dedicated to Tian Tan promenade, from west gate to ovest gate, at about 5.30 am, when I wolked along the stupend tree-avenue of Tian Tan at down, to reach Liu Jin Ping laoshi training place, where I learned 2 Wu Shi Taiji taolu (modern fist and old sword taolu) and 1 Wudang Taiji Jian taolu.
Mingnian jian ba…